TRUSTED BY 4,000+ GRAVES DISEASE SUFFERERS
Reverse your
Graves Disease
and heal your
thyroid

naturally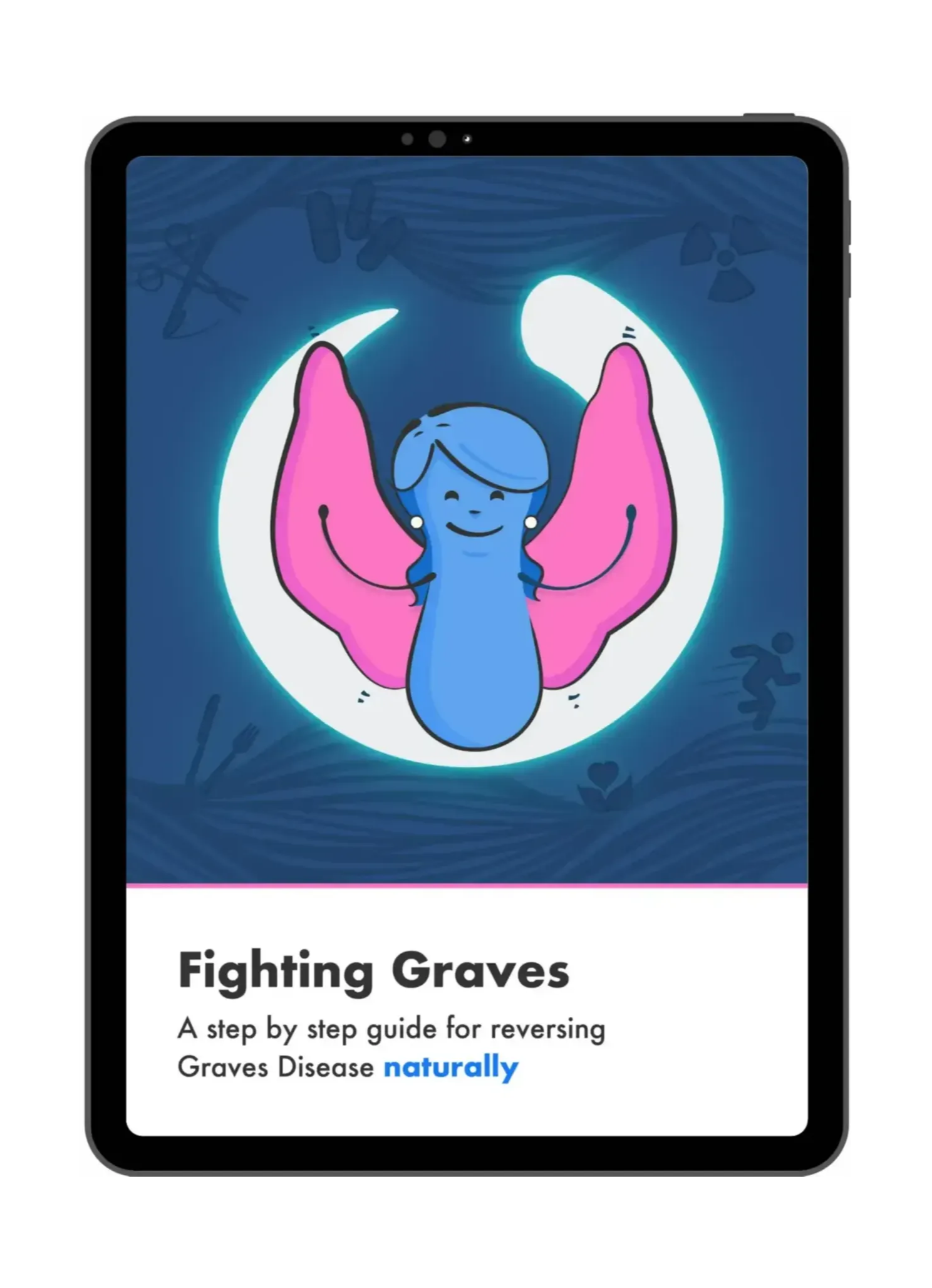 Everything you need to know to heal your thyroid in 12 weeks
A complete diet and natural treatment plan
Put over 30 years of medical science research to work against your Graves
Over 70 recommendations to get fast relief from symptoms
Buy worry free with our full money back guarantee
Guaranteed Safe & Secure Checkout Powered by Shopify

Your Thyroid is not the problem.
There is a common misconception that Graves Disease is caused by the thyroid. It is not. The thyroid is actually the victim of an out of control immune system which is mistakenly sending out antibodies to attack and over stimulate your thyroid, causing it to produce high levels of thyroid hormones which result in debilitating symptoms.
Graves Disease can be healed.
The good news is that there is an ever increasing body of peer-reviewed scientific research and patient success stories, which show that by improving critical factors such as gut wall integrity, diet and nutritional deficiencies, lifestyle, and environmental triggers, the immune system can be reset and you can stop the production of the antibodies which are causing this harm.
T

reat the cause, not the symptoms.
Fighting Graves is a 12 week program that is based on this body of research and evidence, controlled studies and documented results amongst Graves and many other autoimmune patients. It is an easy-to-follow, downloadable ebook that was written by me, a Graves patient and contains everything I learned and did to successfully reverse my Graves Disease and achieve complete remission. It has been used by many others to reverse their Graves Disease too.
Used by over 3,500 people. See what they say:
Thank you so much for creating this guide. It has changed my life, I was diagnosed with Graves six months ago, and thought i would be on medicines for the rest of my life. I was smart enough to get your guide and follow it religiously. Today I got my lab results back and my hormone levels are back to normal. I cannot thank you enough.
- Jolene, San Francisco, USA
Wanted to share good news with you. I have been off meds since December. My latest test for antibodies didn't find any – I am now in remission. I am a Doctor and your program has completely changed how I treat my patients. Thanks a million.
I have completed the 12 weeks remission program successfully. After 3 months, now my levels are in the normal range. After 3 years this is such a huge leap for me. Thank you so much for writing this book. You've inspired me and helped me find a clear way out of this mess. THANK YOU SO MUCH.
The problem with conventional treatment
A diagnosis of Graves disease usually results in a prescription of an anti-thyroid drug to reduce the high thyroid hormone levels, followed swiftly by a recommendation to remove the thyroid itself via surgery or radioactive iodine treatment. Doctors call this 'definitive treatment' but it is far from definitive for two main reasons.
1. You will develop Hypothyroidism
The thyroid is a vital organ and the hormones it produces are critical to the functioning of nearly every other organ in your body. This means that if it is removed, you will have to take a synthetic hormone every day, for the rest of your life. Many people become hypothyroid as they struggle to find the perfect dosage of synthetic hormone to keep them balanced, and this brings with it a host of awful symptoms including extreme weight gain, exhaustion, temperature sensitivity, muscle pain and depression.
2. Your immune system is still out of control
You still have an errant immune system which will continue to go on producing antibodies which can attack the eyes, making them bulge and causing double-vision, and they frequently attack the skin, causing painful scaly lesions. An errant immune system can also go on to cause problems elsewhere, which is why Graves patients are at much higher risk of developing other autoimmune conditions such as Psoriasis, Vitiligo, Rheumatoid Arthritis and Lupus.